EUROPE'S FINEST PLANT-BASED GOURMET SELECTION
Experience a plant-based taste sensation you never thought was possible with Plantbox's monthly tasting box, delivered to your doorstep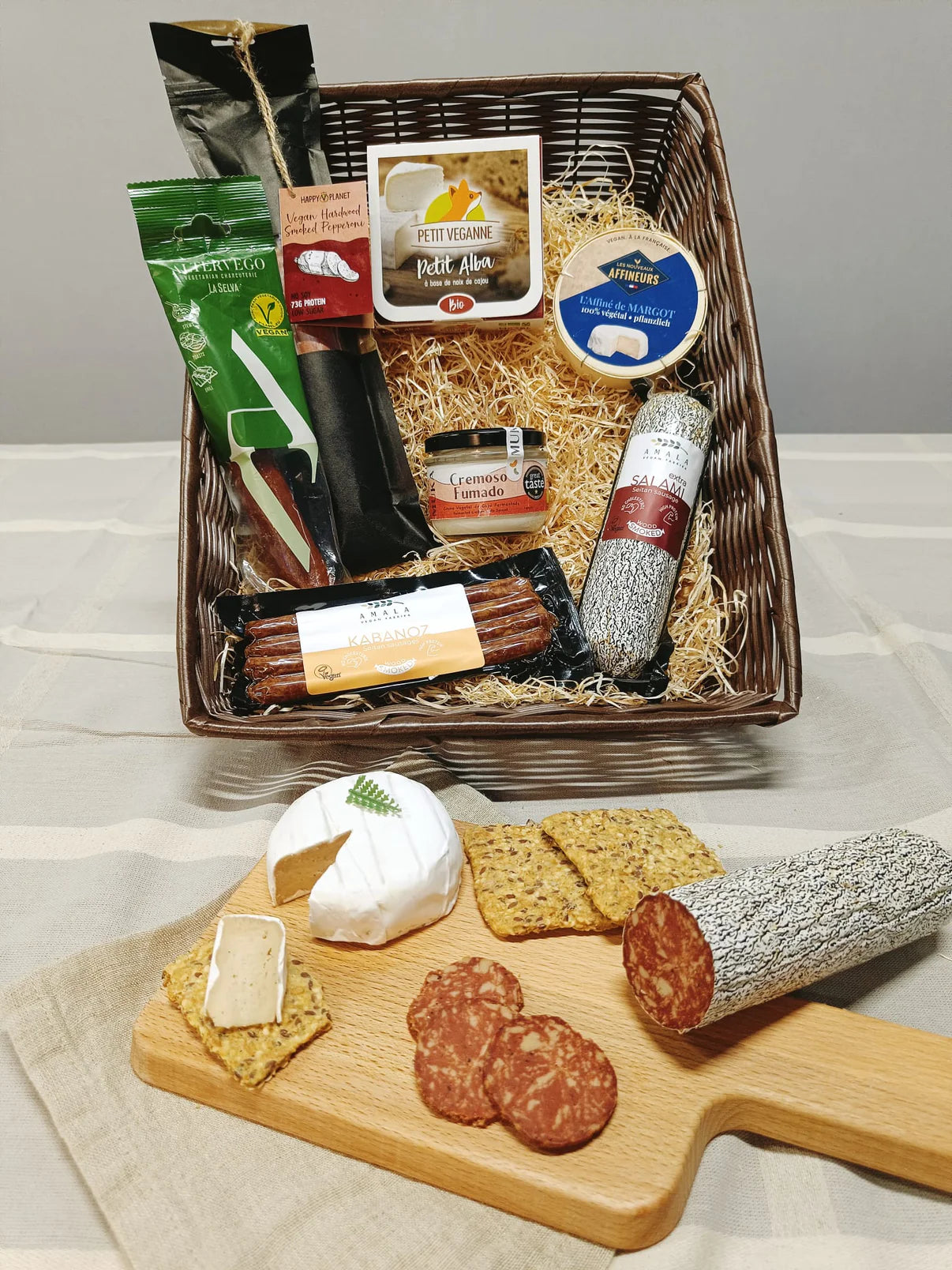 Monthly Tasting Box of Europe's Finest Plant-based Cheeses and Sausages
Prepare to be amazed!
The Plantbox will redefine your taste expectations about plant-based food. The rich cheeses and smoked sausages are so authentic to the "real deal" that you won't believe it is made of plants.
Experience what quality taste like, delivered home to you every month.
Only 349 kr
Order Now ⟶
WHAT IS IN YOUR PLANTBOX

A variety box of plant-based gourmet sausages and cheeses. Everything you need to create a beautiful and tasteful charcuterie table for friends and loved ones. 

ONLY THE BEST OF THE BEST

Our promise to you is that every product you will find in your Plantbox has been carefully selected for their great taste - only the best are allowed!

DELIVERED FRESH EVERY MONTH

The Plantbox is packed with new delightful surprises every month, waiting to be enjoyed. All delivered straight to your doorstep with guaranteed fresh shipping.
What the community has to say
"Just like real spegepølse! Perfect for our camping trip!"

"Den bedste brie jeg nogensinde har smagt"

"Så god på både rugbrød og som fyld til pizza"

"Parmesanen havde den helt rigtige smag og smuldrende konsistens 💚 den bedste parmesan ost jeg nogensinde har smagt"

"Brie! - dette er det tætteste jeg nogensinde har smagt på den ægte vare - ja jeg vil faktisk mene, at hvis man vidste det så ville man aldrig tænke at denne brie var lavet af planter... og så er det simpelt.. ingen mærkelige tilsætningsstoffer... bare soyamælk, cashewnødder, fermentering og salt - kan virkelig anbefales!"

"Tried it at Plantbox's booth at Plant Food Festival, and it actually made me paranoid that I was eating meat, never tried anything as good!"

"Best darn plant salami I have tasted yet! I bought 2 yesterday, and one is already eaten. :-)"

"Amazing - never had anything like this one"

"One of my favourites! Used to buy it when Madenitaly was a thing 😋"
Frequently Asked Questions
What are the products made of?

All our products are 100% plant-based, which means they contain no ingredients derived from animals. Our suppliers apply traditional cheese- and meat-making methods to make incredibly tasty products where you won't miss a thing. We focus on sourcing from local producers using local ingredients resulting in various sustainability gains, including lower carbon emissions, reduced water consumption and less food waste thanks to a longer shelf life.

Want to know more about all the ingredients? Take a look at our product range and read the list of ingredients for each product.
When does my Plantbox arrive?

Every month, we order freshly made products from suppliers all over Europe. As production and shipping takes up to three weeks, the deadline for ordering Plantbox is at the start of the month and is delivered at the end of the month.

If you subscribe for monthly delivery of Plantbox, you don't have to do anything other than get excited about your Plantbox to be delivered at the end of the month.
Where do you deliver?

At the moment, we deliver to Denmark and Sweden
How does delivery work?

You can choose to have your Plantbox delivered to your home or, if you live in Copenhagen, to be picked up at one of Økoskabet's 14 pick-up spots.

Either way, your Plantbox is sent cooled with reusable icepacks in an insulated shipping box. In this way, you receive the products with optimal freshness and quality, so you can enjoy a sensational plant-based moment.

Every month, we order freshly made products from suppliers all over Europe. As production and shipping takes up to three weeks, the deadline for ordering Plantbox is at the start of the month and is delivered at the end of the month.

All parcel shipments within the EU are 100% insured, so we offer a 100% delivery guarantee.

You can always follow your package via track and trace, so that you are well informed when your package will be delivered.
How much does delivery cost?

Delivery is free if you buy a medium or large Plantbox. For a small Plantbox, the delivery cost home delivery is 59 kr and Økoskabet pick-up is 36 kr.
Is there a minimum order value?

The minimum order is a Plantbox at 299 DKK.
Can I choose what goes in my Plantbox to better suit my taste or allergies?

We know every human being is unique and we want to do all we can to give you an insanely great experience.

If there is some of the products in the Plantbox you dislike or have allergies, we are happy to try our best to swap products around.

Reach out to us and we will be there for you!
Where can I buy more of the products that I liked in the Plantbox?

Many of the products that are in the Plantbox cannot be found in your regular supermarket as they are sourced from small artisanal producers all across Europe.

But dont worry - you can add your favorite products as extras to your next Plantbox order and save the shipping cost.
What if I don't like the products in the Plantbox after I try them?

We truly want you to enjoy every product we send you. If you're not satisfied with a product after you've tried it, reach out to us and we'll credit you for the products. Don't forget to rate all the products you've tried. We use your feedback to help improve our future matches for you.
Can I send a Plantbox as a gift?

Absolutely, as long as we deliver to the lucky recipient's area.

We're happy to help, so please write to us or give us a call if you'd like us to set up a gift for you.
Got other questions?

We are here for you and would love to hear from you! Send us your questions, suggestions and dog or cat photos at weareplantbox@gmail.com and we will reply within 24 hours.